Company Overview
InMotion Hosting got its start in Los Angeles, California in 2001. They offer some of the best WordPress hosting around. Independently owned and operated for over two decades, offer you the best services and add-ons at a fair price. No matter what goal you have for your business's online journey or the current stage that journey is at they will have something for you. InMotion Hosting employs over 300 people across the US. InMotion Hosting boasts two eco-friendly data centers. They are notably large for being an independently owned and operated company.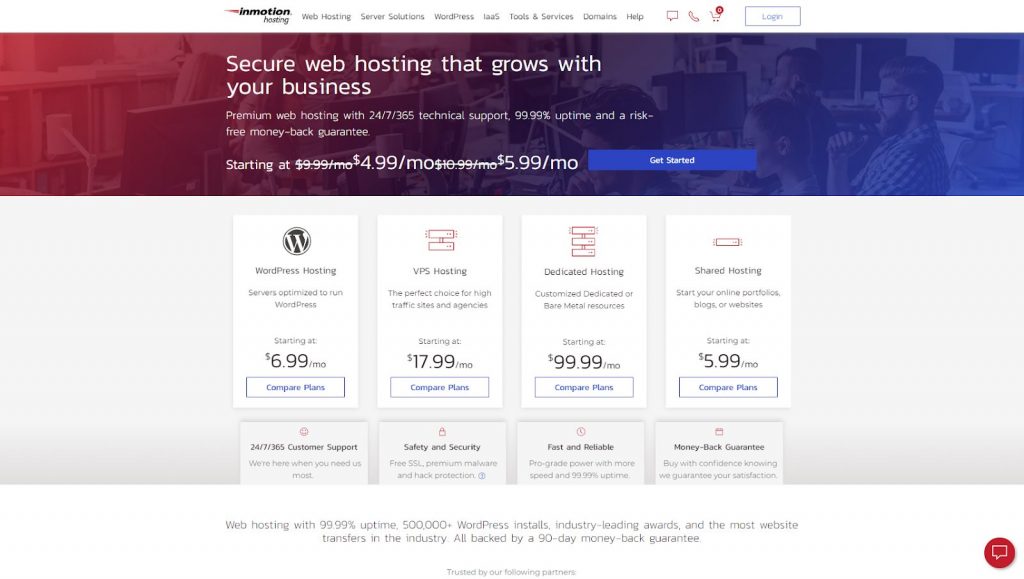 This article will review InMotion Hosting's offerings as they relate to hosting WordPress sites. Specifically, we will look at their WordPress Hosting, Shared Hosting, VPS Hosting, and Dedicated Servers. Additionally, we will also look into their reliability, usability, and customer support.
Usability
When it comes to ease of use, InMotion Hosting has it. Their customers' hosting control panel is cPanel-based and allows cPanel/WHM access for some hosting plans. Some key features you will be able to access within their cPanel include:
Database creation
The ability to access using PHPMyAdmin,
The ability to create and access email accounts
A one-click application installer software called Softaculous.
InMotion Hosting didn't become the respected hosting company they are today overnight. They are focused on their quality of service and quality of their server builds, all the way down to the server population. Many hosting companies put as many customers as possible on one server. InMotion Hosting ensures their servers are populated to minimize server overloads and gracefully handle traffic spikes. They utilize the reliability and speed of Solid State Drives (SSD). InMotion Hosting operates with a 99.99% uptime guarantee along with a 90-day money-back guarantee. This is a testament to the confidence in the reliability of their products and the support they provide for their customers.
Customer Support
Their United States-based support that is available 24/7/365 is something to highlight. Based out of Los Angeles, CA, Virginia Beach, VA, and Denver, CO, these frontline support agents are both friendly and helpful. You won't spend time on some automated system either. Often in a few quick clicks, you will be connected and working with knowledgeable agents.
InMotion Hosting has a few different avenues you can choose to solve your issue. If you are more of the self-service type, they have a robust library of step-by-step guides as well as a rich customer community. You will often find agents and customers working together to solve issues and share best practices in those community posts. If you need more hands-on help, InMotion Hosting has you covered there too. Their customer support agents are able to be contacted via phone, chat, and email.
Let's take a look at their hosting offerings and a few feature highlights for each of them.
WordPress Hosting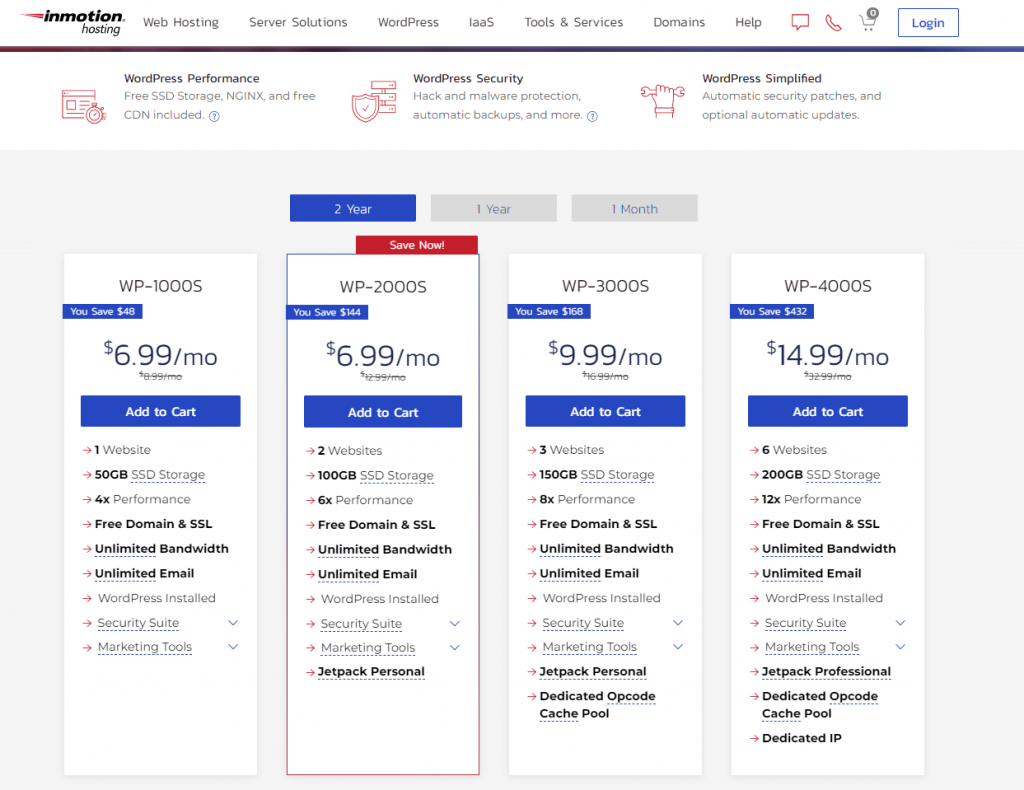 InMotion Hosting has combined performance and customer needs with their WordPress Hosting plans. This offering is a top recommendation. These plans include servers that are optimized for hosting WordPress sites. Meaning, on top of the SSDs, they include, NGINX, free CDN, and free migration services with no downtime. To sweeten the deal, also included are:
automatic backups
hack protection
malware protection
automatic security patches.
Higher tier plans get an added bonus. Included in the WP-2000S plans and up, is a Jetpack license. If you aren't familiar with that, it is a popular tool for online marketplaces and eCommerce sites.
Note: InMotion is also recommended by BoldGrid as a top provider when it comes to WordPress Web Hosting!
Shared Hosting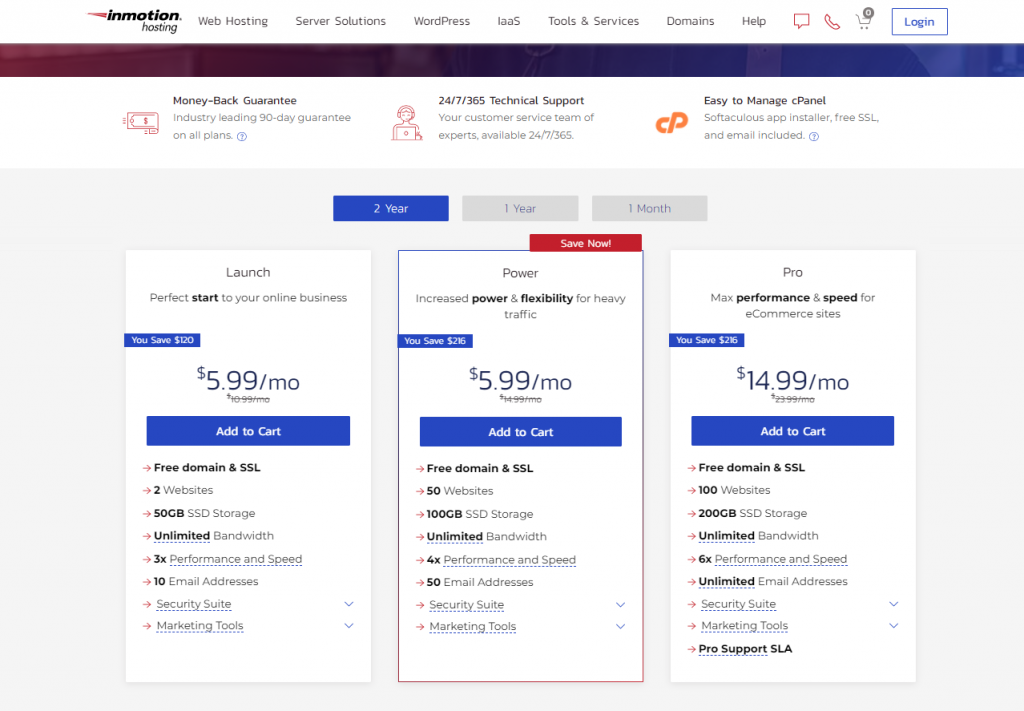 For Shared Hosting, InMotion Hosting has three options available, Launch, Power, and Pro. These hosting plans run a similar server configuration to the WordPress Hosting plans. They also utilize the speed and reliability of SSDs. These plans are great for those looking to get started on their web hosting journey, well-established small business sites, and every stage between.
Their Shared Hosting plans come with a free year of domain registration. They also have access to over four hundred applications with one-click installs using Softaculous. These are plans are upgradable, so as your business grows, so can your hosting plan.
Speaking of which, one of the best parts of InMotion Hosting is its scalability options. If your company outgrows the Shared Hosting platform, they will migrate you to a VPS server for free with a no downtime guarantee.
VPS Hosting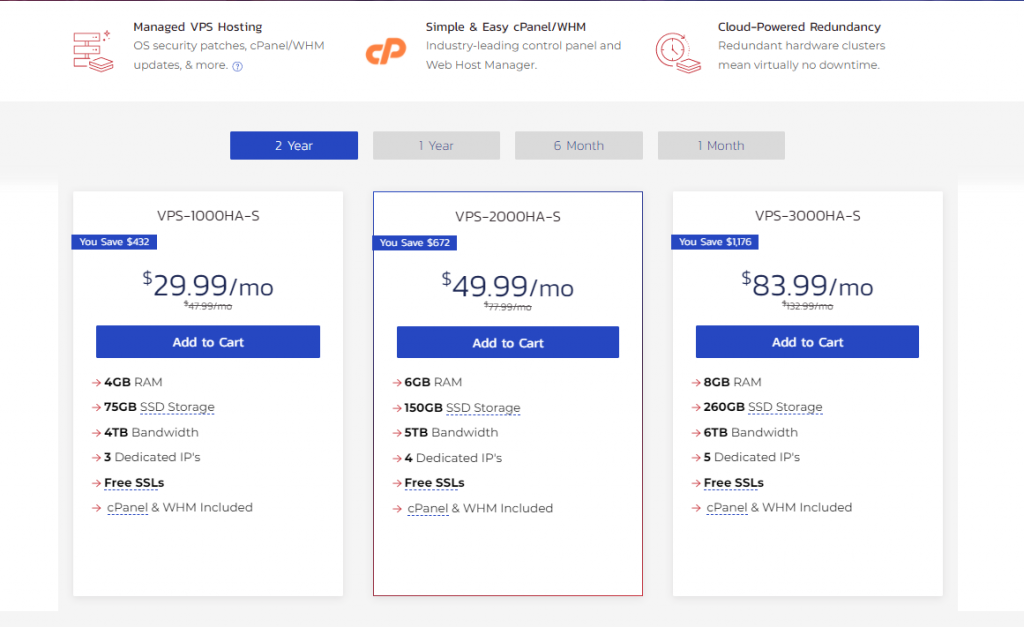 InMotion Hosting has two options for those looking for a little more power in their hosting services. For the more technically sound customers, they offer Cloud VPS's. These allow customers to choose from many operating systems. Although this requires the customer to be familiar with root-level access and offer a limited range of free support. This is great for those looking for a more custom configuration without the price tag of a dedicated server.
The more popular option is their Managed VPS Hosting plans. With cPanel, WHM, and root access, customers can control their child accounts and sites. A major bonus to their VPS Hosting plans is dedicated resources. This allows customers with larger sites to rest assured that their site on a stable platform operating at peak performance. To ensure this, they configure their VPS servers in redundant clusters. This means resources are never pooled and are monitored by a team of qualified agents.
One of our favorite features included in their VPS plans is something called "server snapshots". This feature allows customers to schedule a server backup image or snapshot that the server can be reverted to if something goes wrong or a reset is needed. As well as a retention policy for them so you don't fill your server up with them.
Dedicated Servers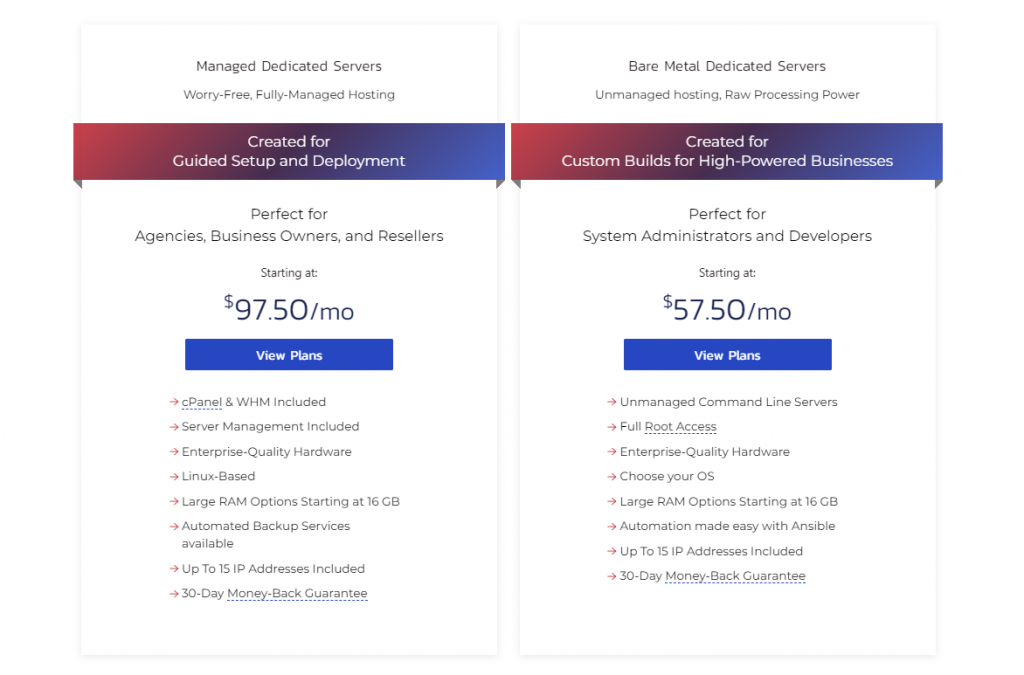 For those customers that require enterprise-level servers, InMotion has you covered. These Managed and Unmanaged Dedicated Servers can be customized with hundreds of options and add-ons, including but not limited to:
Memory
Hard drives
Backup drives
Firewalls
Software RAID
Bandwidth
Remote KVM
And more…
They even have a step up from these called their "Commercial Class" server options that can be configured for even larger companies and sites. Like the VPS Hosting options, InMotion Hosting offers these servers with both cPanel/WHM/Root. This allows customers to use their choice of operating system and server stack.
Summary
InMotion Hosting offers solutions from the first step in your web hosting journey and every step along the way. They are a web hosting company that allows your internet footprint to grow as your company grows. Their WordPress Hosting servers are optimized for both performance and security. Ultimately meaning you can focus on your business once you have your website set.