Company Information
To begin our SiteGround review, let's take a look at their company. Siteground is a web hosting company that has been around since 2004, founded in Sofia, Bulgaria. Since that time, they have grown to be a holding of companies registered in the USA, UK, Bulgaria, and Spain. This means they have several data center locations throughout the world.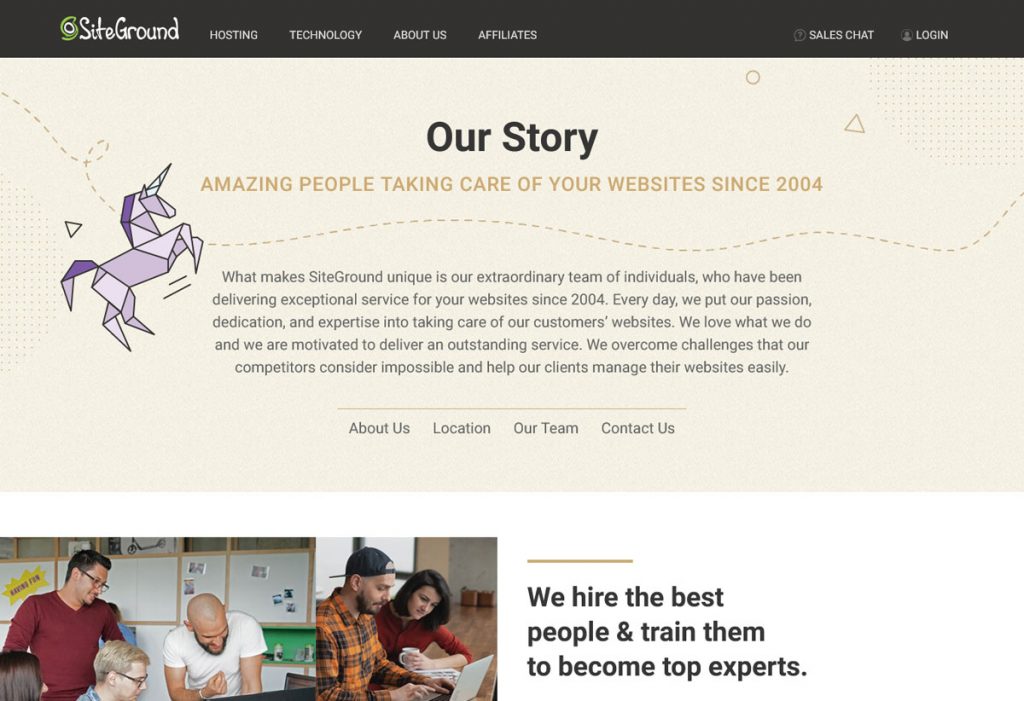 As a hosting provider, SiteGround is home to over 2 million+ domains. They provide multiple hosting services, including shared hosting, cloud hosting, email and domain registration.
When it comes to picking your hosting account type, there are lots of options you can choose from. This can range from Shared Hosting all the way up to Cloud Hosting. This SiteGround review is going to outline the benefits of the different types of hosting offered. Ultimately with the goal of helping you choose the plan that fits your needs best.
Looking around the web, you will see that SiteGround is one of the most recommended WordPress hosting companies. They are well known for their top-notch customer support and high-performance hosting plans.
SiteGrounds Web Hosting Plans
Next up in the SiteGround review is covering their offered plans. SiteGround's "Web Hosting" branded plans are named StartUp, GrowBig, and GoGeek across all of their hosting types. These plans also come with a 30-day money-back guarantee. So should you decide that they are not what you need, there is no risk when trying SiteGround out. 
All of SiteGround's plans are powered by Google Cloud. This allows them to create a powerful and technically superior hosting service. It includes SSD persistent storage, an ultra-fast network, and a 100% renewable energy match.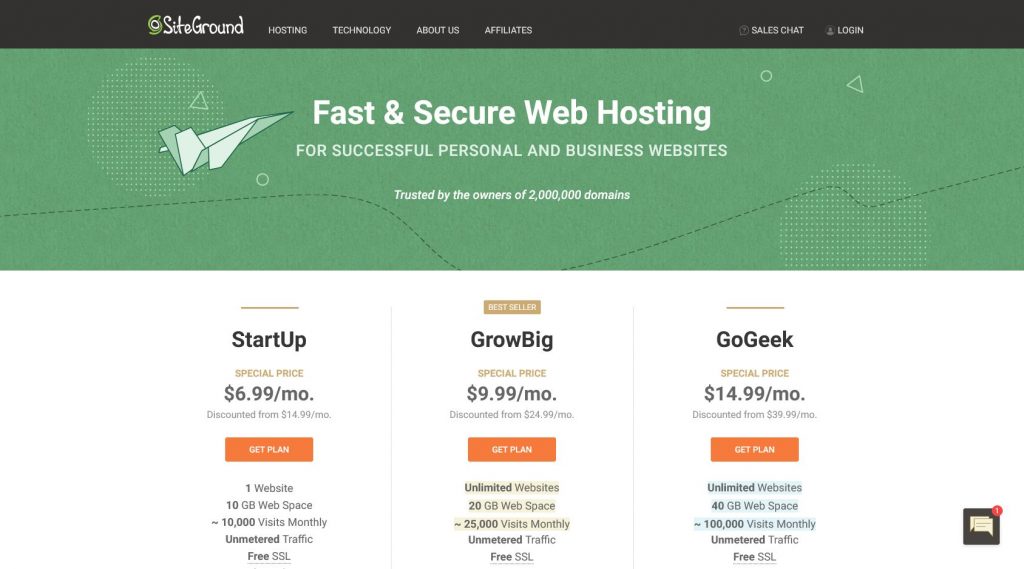 StartUp
The StartUp plan is named very appropriately, as it comes with just 1 website. Additionally, it has 10 GB of space and is able to handle around 10,000 monthly visitors. Starting at $14.99 per month, there is an introductory discount if you purchase at least a year upfront. This brings the price to just $6.99 a month to get started.
Included with the StartUp plan you get a Free SSL certificate, daily backups, a free Content Delivery Network (CDN), free email, managed WordPress and unlimited databases. SiteGround also boasts a 100% renewable energy match, meaning they purchase credits to offset their carbon footprint.
GrowBig
The GrowBig plan comes with everything you see in StartUp, but also has unlimited websites and 20 GB of space. You are also rated at approximately 25,000 visitors, so you have room to grow when choosing a plan from SiteGround.
With GrowBig, you also get on-demand backups, speed-boosting caching, and staging. You also have the ability to add your team members as collaborators. The introductory price is just $9.99 a month. If you start with an annual plan, you can expect to pay $24.99 per month once that period is over.
GoGeek
With GoGeek from SiteGround, you get everything in the other two shared plans. But you also get 40 GB of web space and resources that will allow around 100,000 visitors a month.
The GoGeek plan also provides staging with Git and white-label for your clients. It also includes the highest tier of resources amongst the shared hosting plans. You get their proprietary stack as well, dubbed Ultrafast PHP, and priority support when contacting them.
This plan has an introductory period for just $14.99 per month if you purchase at least a year. You can expect to pay $39.99 per month once that period is over.
Managed WordPress Hosting
WordPress.org, WooCommerce, and Yoast all recommend SiteGround's managed WordPress hosting.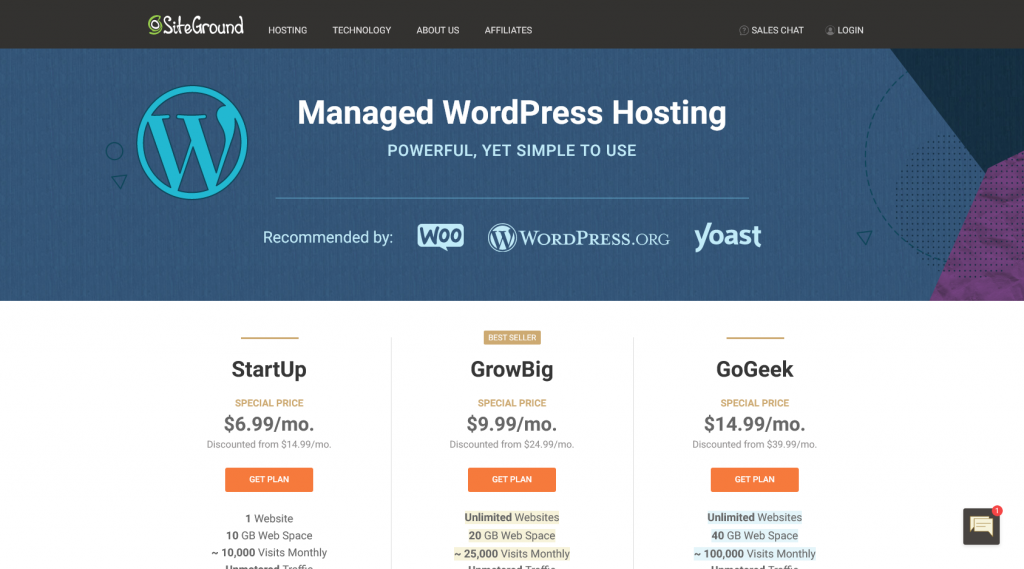 SiteGround's managed WordPress has the same naming convention as shared but provides a few other features. This includes a free WordPress installation and WP Migrator to help transfer your site.
You also get out-of-the-box caching with NGINX, and Memcached is available for you as well as WordPress auto-updates. This also includes SiteGround's top-rated WordPress hosting support that is available 24/7. They are extremely fast and are always willing to provide their WordPress expertise. 
High Performance WooCommerce Hosting
SiteGround's WooCommerce hosting also mirrors their offering for WordPress. However, they also provide WooCommerce with the Storefront WordPress Theme pre-installed. This helps you easily get your store up and running.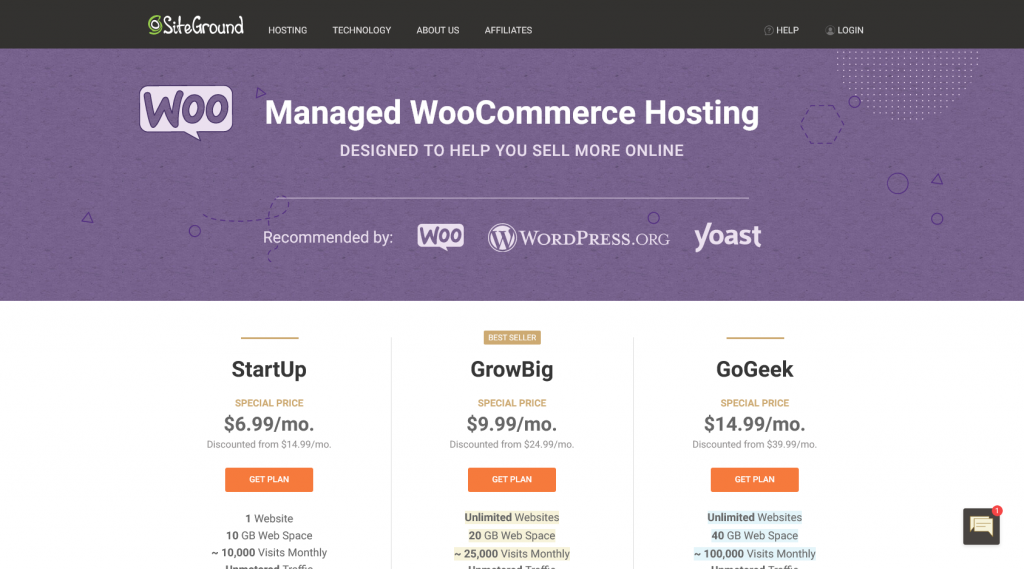 The offering has a caching system specifically crafted for WooCommerce sites. This allows you to worry more about your business and less about the technical aspects of hosting an online store.
Autoscalable Cloud Hosting
SiteGround also offers a managed Cloud hosting product, that provides you with scalable resources, and gives you the option of easily upgrading resources should you experience a spike in traffic or other unknown event requiring more power and resources for your website.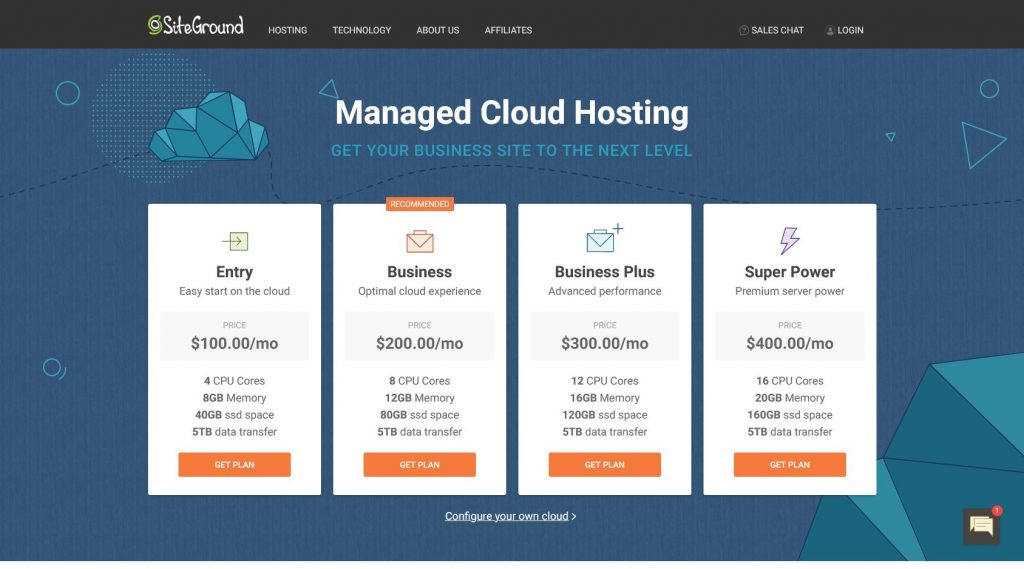 A growing business needs maintenance on all levels, so choosing a managed plan will allow you to focus on your business and leave the system administration to the experts.
Their cloud platform also offers powerful dedicated resources and is optimized for efficiency and speed. The cloud platform guarantees the top performance of your site.
All Cloud Hosting plans come with 5 TB of data transfer per month and offer user collaboration as well as sub-accounts, allowing you to host your own clients while giving them access to their own control panel. With cloud plans, you also have access to advanced priority support, assigning your tickets to the most experienced support agents available.
Entry
The easy way to start on the cloud, the Entry plan offers you 4 CPU cores, 8 GB of RAM, and 40 GB of SSD space coming in at $100 per month.
Business
The optimal cloud experience is their recommended option, the Business plan. Offering 8 CPU cores, 12 GB of RAM, and 80 GB of SSD space at only $200 per month.
Business Plus
The Business Plus plan is an advanced performance plan. It includes 12 CPU cores, 16 GB of memory, and 120 GB of SSD space at only $300 per month.
Super Power
SiteGround's top-level plan, the Super Power boasts 16 CPU cores, 20 GB of RAM, and 160 GB of SSD. This is available at just $400 per month.
All of SiteGround's cloud plans also come with managed updates. They also include easy onboarding, staging with Git and wp-cli, dynamic caching with SG Optimizer, and more!
Data Center Locations and Technology
In this SiteGround review, we also want to cover some technology and data center setups. SiteGround has 5 data centers and over 194 Edge locations with Cloudflare. Their data centers have the highest level of redundancy for all critical components. Through the usage of multiple carriers, uninterrupted connectivity is guaranteed. Google Cloud powers a big part of SiteGround's infrastructure and also provides distributed storage for additional redundancy and availability.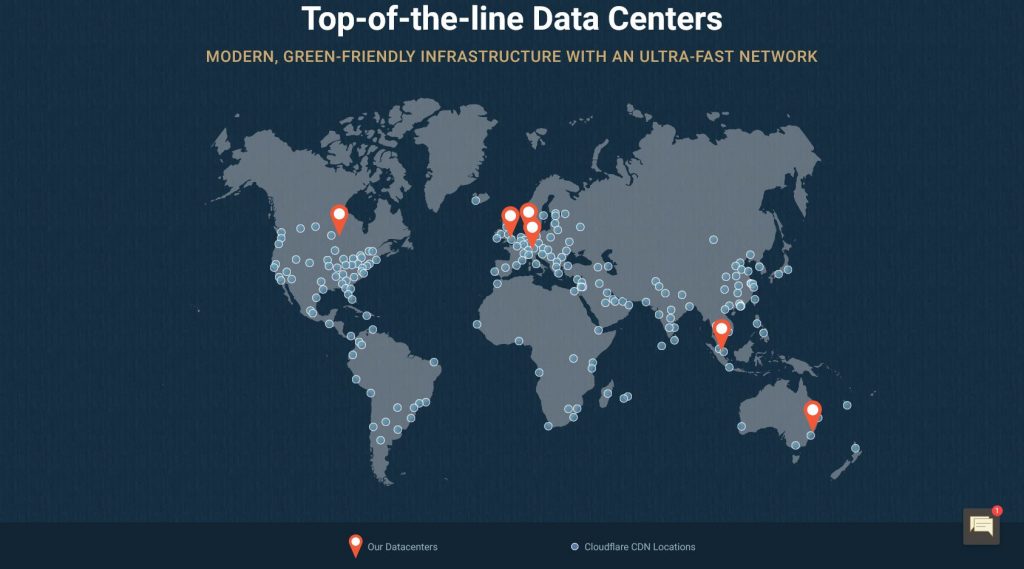 Summary
In summary for this SiteGround review, SiteGround has all the tools you need to begin hosting your WordPress site. SiteGroud is a great choice regardless of your experience. If you want to learn more about other companies, check out our other recommendations for the best WordPress hosting.